The 2015 Caulfield Cup barrier draw has concluded and Japanese stayer Fame Game will jump from the inside of the field after being allocated barrier one.
No horse in the last 30 years has won the Caulfield Cup from barrier one, but Fame Game remains on the second line of Caulfield Cup betting markets and …
Latest Horse Racing News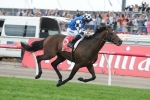 There has been very little support for Protectionist in 2015 Caulfield Cup betting and trainer Kris Lees admits that he does not rate the defending Melbourne Cup winner as a genuine chance in the Group 1 event at Caulfield on Saturday.
Protectionist stamped himself as one of the best stayers in the world when he …
Ratings expert Paul Daily has Set Square on top of his 2015 Caulfield Cup tips and he believes that the talented mare represents great value in betting for the Group 1 event that will be held at Caulfield on Saturday.
Set Square has not recorded a race win since she outstayed her rivals in the …
Mongolian Khan was allocated gate nine at the 2015 Caulfield Cup barrier draw yesterday and jockey Opie Bosson believes that the gate is ideal for the current Caulfield Cup favourite.
Mongolian Khan has shown a degree of tactical versatility during his racing career to date, but Bosson is expected to settle Mongolian Khan in the …
Australian Horse Racing
Horse racing in Australia first began when the First Fleet docked on Australian soil on January 26th, 1788, and brought with it one stallion, one colt and two fillies from Cape Town, South Africa. Since that day, Australian Horse Racing has prospered into one of the most established and widely respected racing industries in the world.
The Australian horse racing calendar consists of 19,376 horse races that are held across 2,694 race meetings each year. Of these races, 19,281 are comprised of flat racing, while only 95 are classified as jump races. The country has a staggering 194,736 race starters, made up of 31,776 individual runners, competing on Australia's 367 racecourses each year.
Australia's most coveted race is the annual Melbourne Cup, which takes place on the first Tuesday of November each year and is worth an incredible $6 million. Every year this historic event, which began in 1861, attracts crowds in excess of 100,000 people. 2003's Melbourne Cup holds the record for the highest number of attendees, with 122,736 people gathering to watch Makybe Diva win her first of three consecutive Melbourne Cup titles.
The Melbourne Cup attracts an annual viewership of nearly 2.6 million people, not including those who watch the race at pubs, schools and offices, and truly is the 'race that stops a nation'. Every year, each person on average in Australia places $8.50 worth of bets on the race that incites interest from the entire country.
Horse racing in Australia offers some of the most lucrative prize money in the world, with almost $422 million paid out annually to money winning horses. This figure is the third highest in the globe, behind only Japan ($1.36 billion) and the United States of America ($1.42 billion). Throughout the year Australians turn over more than $14.3 billion in wagering, equalling an average of $637 per person. $10 billion of this money is punted on the TAB, while in excess of $4.3 billion is spent on the track or with online bookmakers. 46.9% of all bets placed are win tickets, while the second most common ticket type is trifecta bets, which account for 16.1% of all wagers made.
The horse racing industry generates more than $6.2 billion in revenue for the Australian economy each year and provides jobs for 250,000 people, demonstrating the reach of racing industry on our culture. Racing culture is so prevalent in our day to day life that approximately 1 in every 89 Australians are working in the industry.
Breaking Horse Racing News
Racing Field & Form News
The 2015 Ladbrokes Caulfield Classic field has been released and Lizard Island is set to back-up in the Group 3 event that will be held at Caulfield on Saturday.
Lizard Island has shown plenty of talent since he made his racing debut at Caulfield and lived up to that potential when he flew home on …
Ladbrokes Australia have maintained their status as market leaders in innovation by releasing a new 'Cash In' feature that allows customers to instantly deposit money into their Ladbrokes.com.au account at over 1000 participating newsagents right around Australia.
This new agreement with national network Nparcel means that Ladbrokes.com.au are the first online bookmaker in Australia that …
Horse Racing Calendar 2015
Free Racing Products